E3 was last week and that means video games, including wrestling video games. THQ unveiling Smackdown vs. Raw 2011 comes as no surprise, but the new WWE All-Stars game was unexpected. I'm not shocked to see THQ go back to the drawing board after Legend of WrestleMania bombed, I have no doubt they'd like to milk that WWE license
at least
twice a year, but to see them go all the way back to the days of WrestleMania: The Arcade Game was a bit jarring.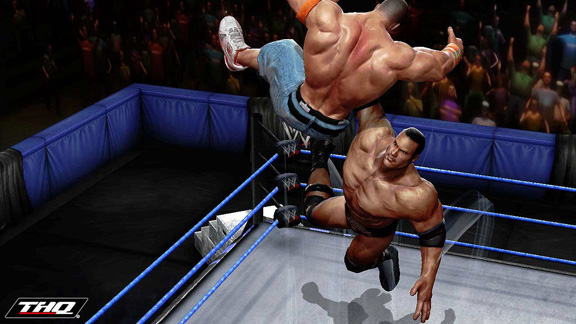 Strange as the game looks, will it find a spot on the worst video games of all time? It's going to take a lot of work (or lack of work, I suppose), to oust one of these five:
5. WCW/nWo Thunder (PSOne)
It was hard to choose between Thunder or Nitro, but Thunder gets the nod for being a horrible sequel to a horrible game. At least with Nitro, you could say "well it was their first try, they'll fix this stuff in the sequel," except the sequel wound up being worse. The only thing keeping this game from not being higher on the list is the wrestlers begging you to pick them on the character selection screen, if you want to know what the Germans are all about, pick Alex Wright!
4. WWF War Zone (PSOne/N64)
I played the hell out of this game in 1998, but that's because I was left with no other option as a WWE fan. Keep in mind, this was the first "true" WWE game in over four years, so after suffering through the aforementioned WrestleMania: The Arcade Game and the truly terrible In Your House, War Zone was better than nothing, but it certainly wasn't better than the WCW games being offered up on the N64. A small roster, annoying control scheme, and the crushing disappointment earn this game a spot on the list. To be fair, it was the first American wrestling game to give us Create-a-Wrestler, and its sequel (Attitude) was an improvement, but there's a reason why developer Acclaim went bankrupt. Churning out this game four times (including the dreadful ECW games that used the same engine) probably played a big role.
3. WWF In Your House (PSOne)
Quite possibly the most obnoxious wrestling video game ever created, just watching this video irritates me:
2. WCW Backstage Assault (PSOne/N64)
It's a wrestling game without a ring. I'm going to repeat that: a wrestling game without a ring. For those of you who who cut your teeth on the Smackdown vs. Raw series, this may seem utterly absurd, but at the time, it
kinda
made sense. For some reason, we wrestling game fans
loved
the backstage area, we wanted to take the fight out of the ring, through the curtain, into the parking lot, out to the street, and eventually into the Smackdown Mall. We wanted smash heads into pool tables, throw our opponents into the back of a semi truck, and hit flying elbow drops from out of a helicopter. So EA, who had the rights to WCW games at the time, decided to make a whole game of that... and it sucked.... a lot: ugly graphics, terrible gameplay, not a single redeeming quality. To add insult to injury, this wound up being the final WCW video game, but at least fans didn't have to play a video game version of the Invasion.
1. The Simpsons Wrestling (PSOne)
Let's just piss everyone off: fans of wrestling games, fans of The Simpsons, fans of Simpsons video games (okay those don't exist), fans of video games in general, and fans of good taste. Calling this a wrestling game is offensive, calling this a game is offensive, because the word "game" implies fun and there was nothing fun about this atrocity.
Awful. You may find it odd that all of these games appeared on the PSOne, but I think that has more to do with the Playstation being
the
console when wrestling was at its peak. Everyone wanted to cash in on the wrestling craze, and game developers did so on the Playstation. And I realize there are some truly awful games that didn't make the cut, so let's discuss the
dishonorable mentions:
Backyard Wrestling
- while BY and its sequel were unforgivably bad, they really did a good job of capturing the essence of what Backyard Wrestling was all about - shitty wannabes trying to wrestle. Throwing people through tables as transitional moves, poor execution, and painfully ugly? These things could be said about both the game and actual backyard wrestling.
WWE Crush Hour
- I didn't include this in the list because the only thing related to wrestling in this game is the characters. It's probably the worst Twisted Metal knockoff ever made, but it's not a wrestling game.
The WWE Xbox Games
- I've read some scathing reviews of the wrestling games that were churned out on the original Xbox, but I've honestly never played them. If they deserve a spot on this list, let me know why.
Legends of Wrestling
- While these games were bad, often riddled with bugs and almost unplayable, there were a lot of good ideas. If this series had been placed in the hands of a competent developer (instead of Acclaim), it could've been legitimate competition to WWE's wrestling game monopoly.